Howick New Zealand 1997


Invited by friends to join the "Write your own story" class at Uxbridge Leisure Centre, I found that it was the much needed trigger for writ i ng about my life, before the younger generation put pressure on me to continue a family tradition .


A year previously, I had made a tentative start, but found that buying a large exercise book, writing 1933 at the top of the first page and continuing in this manner until I reached 1997, was not inspiring.
The solution was simple. In class, we were given exercises in focusing on specific areas of our life, writing about them briefly, then reading the result to the class . T he interest and encouragement shown by the tutor and class members unlocked writing skil l s which had l ain fallow since my primary school years.
What I had originally perceived as a long , uninteresting life, led by an unambitious person, became a series of interesting and entertaining episodes which could be written out of chronolog i cal order, as and when mood and memory dictated .
To my delight the whole family has been involved. Sylvia deciphers and types out my longhand script , cross - checking the accuracy of dates and family events - Helen has acted as a tact f ul editor . Jane presented me with a handbag sized notebook for jotting down ideas. Mart i n has reacted positively on reading my stories, as have the rest of the extended family. L ast but not least , Alice has offered to contact the editor of Readers Digest regarding the publishing of one of my stories "Super Gran and Sadie". Even if it ' s not accepted , I appreciate the thought .
Minnie Madeleine Ough Dealy ( Nee Deakin)
Her Memories
A primary school teacher, remedial reading specialist, mother and grandmother Minnie has written many short stories about her past. These have accumulated over the years and now have become a story of her life experience. In a very effective way these short pen pictures have become her memoires. As well as writing her hobbies include cooking, gardening, Tai Chi and handbell ringing.


Copyright M.& M.M. Ough Dealy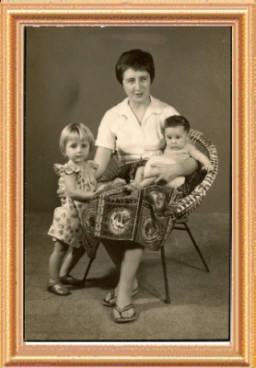 Charlotte, Minnie and Madeline 1997
Auckland New Zealand
Helen, Minnie and Jane circa 1961
Johore Bahru Malaysia

This page last modified on Thursday, July 17, 2014