EXPERIENCES OF THE FAG ENDS OF A FORGOTTEN WAR
KOREA 1954-55
Korea bad tooth, the cold, recovery ops, Jock Shearer, thefts and unusual methods of T, Rat rations and Chocolate, hockey, Kimshi and haircuts, the loaded sten gun, chase and a shooting, Turkish Hospital and a dead thief, Christmas and a hand woven scarf from England, 70tons of rig on a dirt track, frozen Han River, Yanky troop train, Transit Camp near Pusan, Asturias Troop ship coming and going R&R, a month of freedom from Kure Base, BCFK and BFPO, Australian CO, Tent Fires, Frozen tools and hands, Long drops and explosions, Frozen showers, Hockey on the clay pitch, RAOC Bath and Laundry Unit, mine field,





Prelude at Sandhurst

Commissioning from Sandhurst was the achievement of all that I had been aspiring to since I had left school and Jamaica in early 1952. Through my time at the Academy I could think of not much else than the end of the toughening and moulding process the Army put one through before awarding Her Majesty's Commission.

In the eighteen months I was at the Royal Military Academy Sandhurst (RMAS) I had not thought much about what happened after the passing out parade and the final posting to my chosen branch of service. I imagined that life would become easier. I had vague ideas that life after Sandhurst would be less demanding, with more creature comforts and some privileges. I imagined a future situation where I would have room to breathe and not have to respond immediately to someone else's demands. That prospect at the time was really appealing.
Breakfast Rollcall - Waterloo Company Intake 12 1952


Of course things did not turn out that way, but at the time I had yet to face the realities of life in the Army. I had yet to be disillusioned of my dreams.
Throughout the commissioning course my one aim was to survive the ordeal and "pass out" as creditably as possible. So it was that on 12 February 1954 I passed out in the time honoured way, marching up the steps of Old College in the wake of the Academy Adjutant's Grey charger with the other 250 or so members of Intake 12. My 24 immediate companions in that marching column were the about to be commissioned Seniors of Waterloo Company with whom I had shared such a gruelling time.

Copyright M.& M.M. Ough Dealy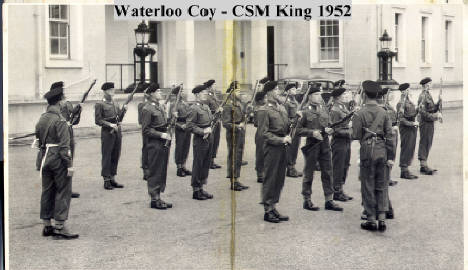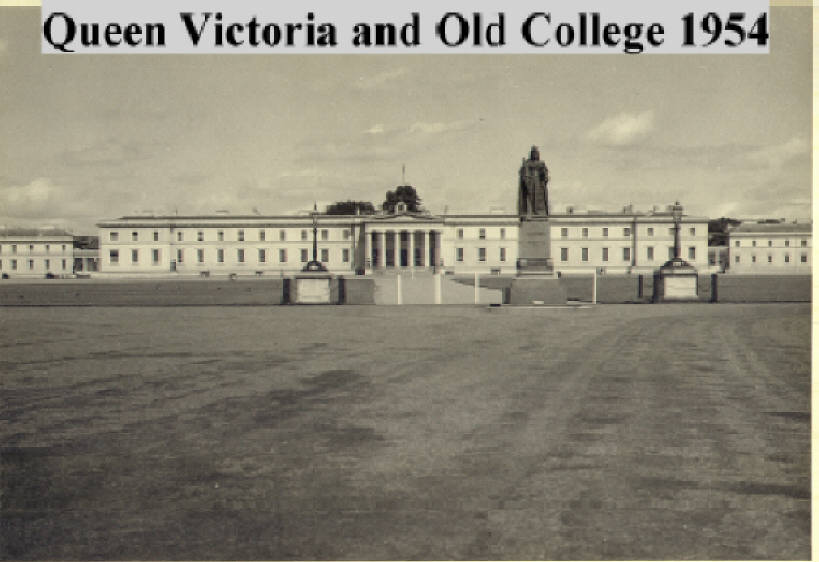 This page last modified on Sunday, May 09, 2021
Royal Military Academy Sandhurst 1952-54